Bucket Bags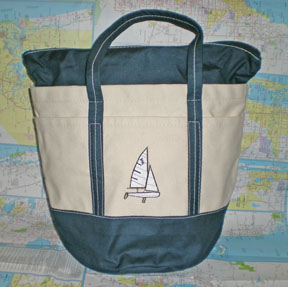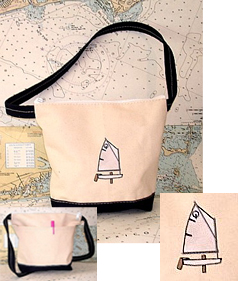 Personalized embroidering available
Our embroidered 420 Canvas Bucket Totes are shaped like a bucket and made of heavy canvas duck. Totes are available with personalized embroidering, which is great for your name, your sailors' name and sail number or even your boat's name. All bags have a zippered top with material inserts for bag expansion. There are 7 outside flat pockets, which are perfect for your cell phone or sunglasses. Bags have a double bottom with natural canvas on the inside and trim colors on the outside, for added strength. Material is 100% cotton** and all totes are sewn in sail maker quality. Carry straps are soft and rugged with all stitching done in 138 polyester thread, for durability.
All totes are produced in a natural canvas color, with trim colors of Navy, Red, Green or Black
Color specifics: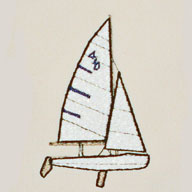 Navy trim White sails Navy 420 logo and battens
Red trim Red sails White 420 logo and battens
Green trim Green sails White 420 logo and battens
Black trim White sails Black 420 logo and battens

All embroidering matches bag trim colors.
Color shades for each bag may vary slightly due to dye lots.
Available in 4 sizes:

Small Bucket

7" dia x 11" tall

$30
Original Bucket

10"dia x 15" tall

$

48
Mid Bucket

11 ½" dia x 19" tall

$

58

Big Bucket 13" dia x 21" tall $68

Catch All Shoulder Bag 10.5" x 9" tall $28
(Free gift with every 420 purchase)
Personalized embroidering - $5 per line (see Opti Totes page for embroidering options)
Shipping:
USPS Priority Mail*
Small Bucket $6.65
Original size $8.65
Mid and Big Bucket sizes $9.00

*Combined shipping is only available with another Bucket Tote purchase. All bags are custom made and are shipped directly from manufacturer. Allow 1-2 weeks for delivery unless special arrangements are made.
** Material care-Spot cleaning only
Our Totes are also offered in other boat designs